Asia: North Korea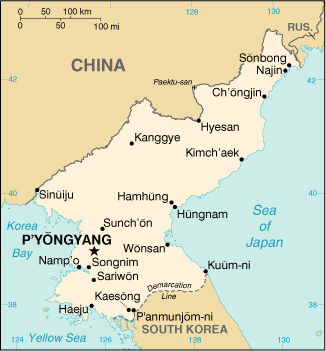 About North Korea

Following World War II, Korea was split into a northern, communist half and a southern, Western-oriented half. KIM Chong-il has ruled North Korea since his father and the country's founder, president KIM Il-song, died in 1994. After decades of mismanagement, the North relies heavily on international food aid to feed its population, while continuing to expend resources to maintain an army of about 1 million. North Korea's long-range missile development and research into nuclear and chemical weapons are of major concern to the international community.
Vital Statistics
Capitol City:
Pyongyang
Population:
21,968,228 (July 2001 est.)
Percent below poverty:
NA%
Language:
Korean
Date of independence:
15 August 1945 (from Japan)
Form of government:
authoritarian socialist
Title of Leader:
president
Natural Resources:
coal, copper, lead, molybdenum, phosphates, uranium, bauxite, gold, iron, mercury, nickel, potash, silver, tungsten, zinc, petroleum, natural gas, timber
Environmental Issues:
water pollution; inadequate supplies of potable water; water-borne disease; deforestation; soil erosion and degradation
Agricultural Products:
rice, corn, potatoes, soybeans, pulses; cattle, pigs, pork, eggs
Imports:
petroleum, coking coal, machinery and equipment; consumer goods, grain
Exports:
minerals, metallurgical products, manufactures; agricultural and fishery products
Trading Partners:
IMPORTS: China 33%, Japan 17%, Russia 5%, South Korea 4%, Germany 3% (1995)
EXPORTS: Japan 28%, South Korea 21%, China 5%, Germany 4%, Russia 1% (1995)
North Korea Headlines


Warning: fopen(http://p.moreover.com/cgi-local/page?c=Korea%20news&o=xml) [function.fopen]: failed to open stream: HTTP request failed! HTTP/1.1 404 Not Found in /home/blue/public_html/country.php on line 291
Could not open http://p.moreover.com/cgi-local/page?c=Korea%20news&o=xml for parsing!