Asia: China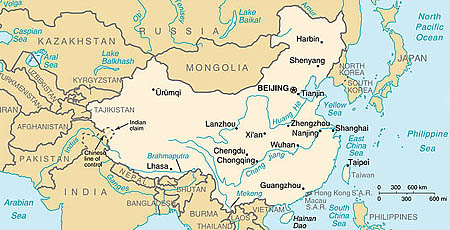 About China

For centuries China has stood as a leading civilization, outpacing the rest of the world in the arts and sciences. But in the first half of the 20th century, China was beset by major famines, civil unrest, military defeats, and foreign occupation. After World War II, the Communists under MAO Zedong established a dictatorship that, while ensuring China's sovereignty, imposed strict controls over everyday life and cost the lives of tens of millions of people. After 1978, his successor DENG Xiaoping gradually introduced market-oriented reforms and decentralized economic decision making. Output quadrupled in the next 20 years and China now has the world's second largest GDP. Political controls remain tight even while economic controls continue to weaken.
Vital Statistics
Capitol City:
Beijing
Population:
1,273,111,290 (July 2001 est.)
Percent below poverty:
10% (1999 est.)
Language:
Standard Chinese or Mandarin (Putonghua, based on the Beijing dialect), Yue (Cantonese), Wu (Shanghaiese), Minbei (Fuzhou), Minnan (Hokkien-Taiwanese), Xiang, Gan, Hakka dialects, minority languages
Date of independence:
221 BC (unification under the Qin o
Form of government:
Communist state
Title of Leader:
President
Natural Resources:
coal, iron ore, petroleum, natural gas, mercury, tin, tungsten, antimony, manganese, molybdenum, vanadium, magnetite, aluminum, lead, zinc, uranium, hydropower potential (world's largest)
Environmental Issues:
air pollution (greenhouse gases, sulfur dioxide particulates) from reliance on coal, produces acid rain; water shortages, particularly in the north; water pollution from untreated wastes; deforestation; estimated loss of one-fifth of agricultural land sin
Agricultural Products:
rice, wheat, potatoes, sorghum, peanuts, tea, millet, barley, cotton, oilseed; pork; fish
Imports:
machinery and equipment, mineral fuels, plastics, iron and steel, chemicals
Exports:
machinery and equipment; textiles and clothing, footwear, toys and sporting goods; mineral fuels
Trading Partners:
IMPORTS: Japan 18%, Taiwan 11%, US 10%, South Korea 10%, Germany, Hong Kong, Russia, Malaysia (2000)
EXPORTS: US 21%, Hong Kong 18%, Japan 17%, South Korea, Germany, Netherlands, UK, Singapore, Taiwan (2000)
China Headlines


Warning: fopen(http://p.moreover.com/cgi-local/page?c=China%20news&o=xml) [function.fopen]: failed to open stream: HTTP request failed! HTTP/1.1 404 Not Found in /home/blue/public_html/country.php on line 291
Could not open http://p.moreover.com/cgi-local/page?c=China%20news&o=xml for parsing!