Oceania: Papua New Guinea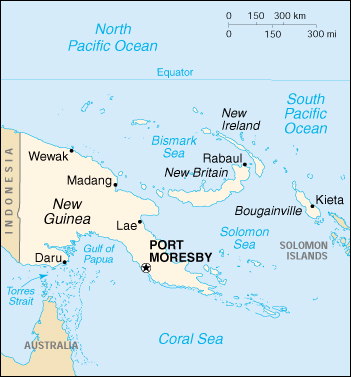 About Papua New Guinea

The eastern half of the island of New Guinea - second largest in the world - was divided between Germany (north) and the UK (south) in 1885. The latter area was transferred to Australia in 1902, which occupied the northern portion during World War I and continued to administer the combined areas until independence in 1975. A nine-year secessionist revolt on the island of Bougainville ended in 1997, after claiming some 20,000 lives.
Vital Statistics
Capitol City:
Port Moresby
Population:
5,049,055 (July 2001 est.)
Percent below poverty:
37%
Language:
English spoken by 1%-2%, pidgin English widespread, Motu spoken in Papua region, 715 indigenous languages
Date of independence:
16 September 1975 (from the Austral
Form of government:
constitutional monarchy with parlia
Title of Leader:
Queen, represented by Governor Gene
Natural Resources:
gold, copper, silver, natural gas, timber, oil, fisheries
Environmental Issues:
rain forest subject to deforestation as a result of growing commercial demand for tropical timber; pollution from mining projects; severe drought
Agricultural Products:
coffee, cocoa, coconuts, palm kernels, tea, rubber, sweet potatoes, fruit, vegetables; poultry, pork
Imports:
machinery and transport equipment, manufactured goods, food, fuels, chemicals
Exports:
oil, gold, copper ore, logs, palm oil, coffee, cocoa, crayfish, prawns
Trading Partners:
IMPORTS: Australia 53%, Singapore 13%, Japan 6%, US 4%, New Zealand 4%, Malaysia 4% (1999)
EXPORTS: Australia 30%, Japan 12%, Germany 7%, South Korea 4%, Philippines 3%, UK 3% (1999)
Papua New Guinea Headlines


Warning: fopen(http://p.moreover.com/cgi-local/page?c=Australia%20news&k=new%20guinea&o=xml) [function.fopen]: failed to open stream: HTTP request failed! HTTP/1.1 404 Not Found in /home/blue/public_html/country.php on line 291
Could not open http://p.moreover.com/cgi-local/page?c=Australia%20news&k=new%20guinea&o=xml for parsing!